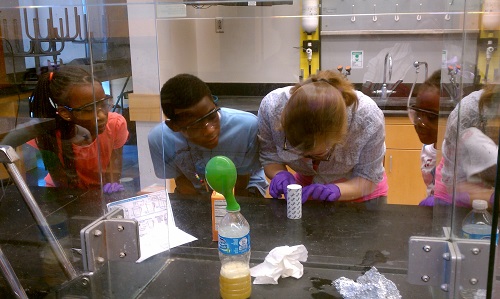 CMEDS 2012 Summer Intern, Melanie Sebastian, demonstrates a science experiment for St. James Methodist Church of New Orleans Summer Campers. July 2012
CMEDS 2012 Summer Interns, Brian Bloom-Peltz, Nicholas Altieri, and Sinead Holleran, demonstrate distillation for St. James Methodist Church of New Orleans Summer Capers. July 2012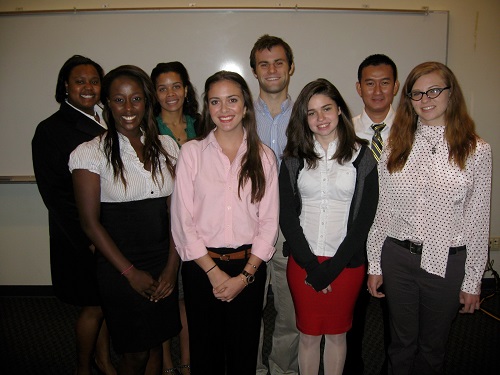 CMEDS 2012 Summer Interns following the 2012 Summer Research Academy Symposium held in conjunction with the National Science Foundation URM-EDEB Initiative. August 2012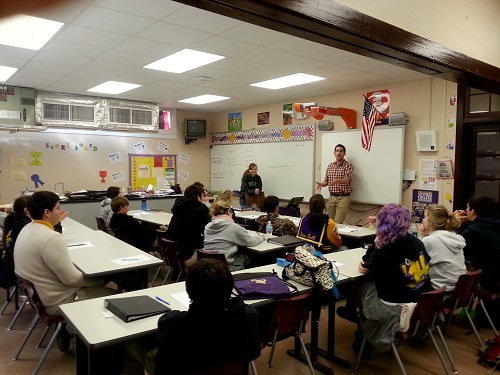 CMEDS 2012 Summer Interns, Melanie Sebastian and Nicholas Altieri engage 11th grade Fisher High School Science students in dialogue about Tulane University and the Deepwater Horizon Oil Spill, and the work of CMEDS. March 2013
CMEDS 2012 Interns Melanie Sebastian and Nicholas Altieri, Outreach Coordinator Bennetta Horne, and CMEDS Teacher Intern Keva Jones with 11th grade Fisher High School Science Students. March 2013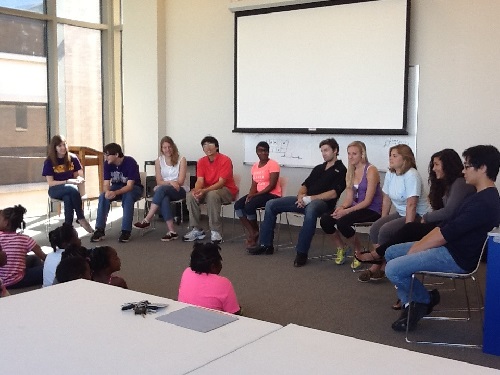 CMEDS 2013 Summer Interns engage St. James Methodist Church of New Orleans Summer Campers in a dialogue about science education and career opportunities. July 2013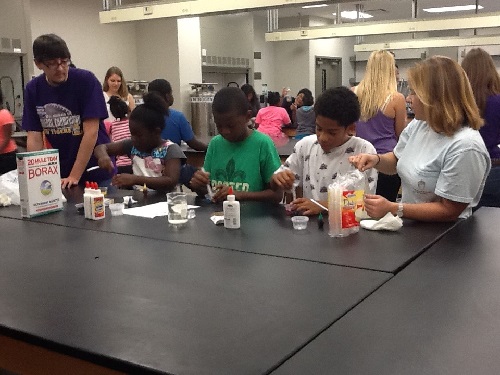 CMEDS 2013 Summer Interns, Lawrence Aiken and Mary Osetinsky lead St. James Methodist Church of New Orleans Summer Campers in one of the "round-robin" science experiments during CMEDS outreach presentation at Tulane University. July 2013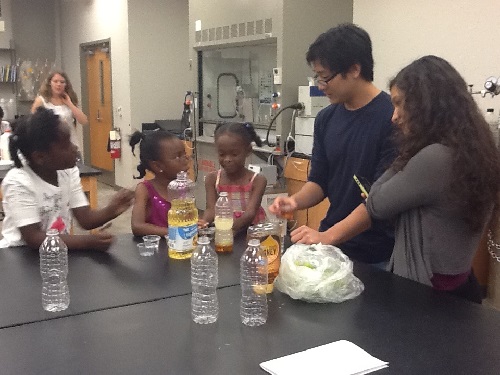 CMEDS 2013 Summer Interns, Tuan Tran and Carolina Rodriguez demonstrate the concept of density for St. James Methodist Church of New Orleans Summer Campers. July 2013
The CMEDS Outreach Initiative has several components designed to invoke the dissemination of knowledge to the academic community as well as to the general population. Among the most prominent of these initiatives has occurred for two consecutive summers and has been conducted jointly between the Tulane and LSU CMEDS faculty and students. During the two summers, a total of 21 undergraduate students were paired with faculty mentors and engaged in 10 weeks of focused research. Each summer culminated with a research symposium in which each intern delivered a 15 minute platform presentation of his/her research. The symposiums were held in conjunction with an NSF-URM initiative – Enhancing Diversity in Environmental Biology. In addition to the undergraduate interns, Fisher Middle-High School Science teacher, Keva Jones, engaged in the CMEDS Outreach Initiative. Jones, in conjunction with the CMEDS undergraduate interns and outreach coordinators Bennetta Horne and Eric Roque designed, coordinated, and facilitated a 1-day Summer Science Academy for ~20 elementary students from St. James Methodist Church of New Orleans Summer Camp. Campers were engaged in a "round-robin" rotation of 6 mini, age appropriate, scientific experiments. Outreach activities were expanded during the academic year when CMEDS interns visited Fisher Middle-High School and engaged students in dialogue on academic careers, Tulane University, the Deepwater Horizon Oil Spill, and their individual research projects.
Efforts to reach out to more community members directly affected by Deepwater Horizon Oil Spill were realized when CMEDS partnered with Tulane's School of Public Health and Tropical Medicine (SPHTM) and hosted a forum at Our Lady of Holy Rosary Church in Houma, LA. In addition to CMEDS PI, Vijay John, the forum was facilitated by toxicologist Dr. Jeffrey Wickliffe and outreach coordinator Ms. Tarase Carter of (SPHTM) as well as Debi Benoit from the GOMRI Research Board. The forum, entitled: "Is it safe? The oil spill dispersants and frequently asked questions," provided the Vietnamese fishing/shrimping community with an opportunity to ask questions from researchers. Questions from the community included those related to long term health care from issues related to the spill as well as those surrounding the stability of the seafood industry post spill.
In addition to the Tulane-LSU partnered components, other CMEDS investigators conducted distinct individual outreach activities. Each investigator has a portion of their budget allocated to facilitate an undergraduate research experience in addition to other unique outreach opportunities which are often leveraged through other grant support. Examples include: an integrated science and education program through the Museum of Science and Industry (MOSI) in Tampa. FL – [USF – Norma Alcantar and Ryan Toomey]; a service learning course at the New Orleans Charter Science and Mathematics High School (NOCSM) – [Tulane – Henry Ashbaugh]; an Integrated Concentration in Science (iCons) undergraduate program – [UMass – Anthony Dinsmore]; a workshop on oil spill dispersants during the "Tech Savy" conference organized by the American Association of University Women – [UB-SUNY – Marina Tsianou]; a collaboration with Nunez Community College designed to train process technology operators for careers in the chemical industry – [Tulane – Vijay John]; the UTeach Outreach Program – [UT Austin – Keith Johnston]; and an "Art-Meets-Science" Program at Glasgow Middle School in Baton Rouge, LA – [LSU – Paul Russo]. A supplemental outreach program scheduled for implementation in Year 3 is the Public dissemination of Research through Journalist Training. Dr. Sunshine Menezes, via the Metcalf Institute for Marine & Environmental Reporting, with work with CMEDS PIs to develop and implement a one-day science seminar for journalists to focus on the science and technology of deep-sea dispersants.